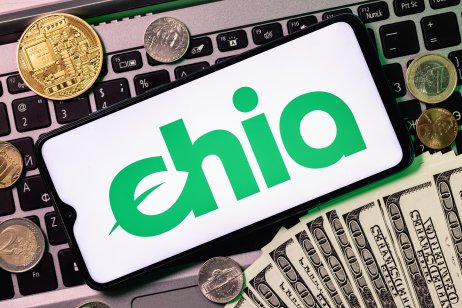 Why to invest in chia coin in 2023? Cryptocurrency has taken the world by storm. From innovation to disruption, digital assets have changed the way we think about money, investments, and financial services. But what are the best coins with the potential to multiply your investment up to ten times (10X) or even a hundred times (1000X) and why can Chia coin be one of them?
As the cryptocurrency has entered the mainstream media it has gained massive increase in demand and price. Bitcoin as the first of them since it's "birth" in 2008 has increased it's price 30k times.
When Chia Coin came in to the spotlight, the crypto community was well developed, hence it resulted in the pre-launched hype that caused the initial price of Chia Coin to go too high. Over time, when supply and demand had established it's balance, the price has stabilized and for the last year is fairly consistent, without too big fluctuations.
When you enquire about any crypto, first question you need to ask is what is it's consensus mechanism? How does it process transactions..
Currently top 100 crypto currencies by market cap are these 2 consensus methods:
POW (Proof Of Work)
POS (Proof of Stake), and its derivate DPOS (Delegated Proof Of Stake)
Among the rest lesser known are
Proof of Importance (PoI)
Proof of Capacity (PoC)
Proof of Elapsed Time (PoET)
Proof of Activity (PoA)
Proof of Authority (PoA)
POW is the only real decentralized consensus mechanism, or at least invented and created with a purpose to be. The rest are highly centralized, and once you look at them more closely, their creators gave their best to make them look decentralized, but only to look that way, not to behave.
Why to invest in chia coin in 2023
Now, why can we expect great price growth of the Chia Coin?
Well POST (Proof Of Space and Time) is the new consensus mechanism, that is gaining traction. The blockchain provides everything that all other provide. It consumes less energy than POW, and is fully decentralized unlike the POS. It is maintained by a legitimate business company, unlike Celsius or FTX.
It has good rising NFT community.
And what is more important, I expect for governments to start the big cracking on "pseudo crypto companies", and a certain degree of order to be implemented on the market. Possibly an entire set of legislations that will finally bring order on to the market.
When that happens, I expect Chia to come on top as not just the innovative technology, that it even may not be, but the most seriously and professionally managed blockchain.
Everyone will want to have chia coin in their portfolio, and the price prepared to pay for it will not be an issue.
Chia, according to most, is one of the most amazing cryptocurrencies to rise this year (XCH). The XCH price forecast for 2023 anticipates a significant increase in the year's second half.
Chia Network plans IPO
This is why to invest in chia coin in 2023! Executives at Chia Network plan to take the company public, either through an initial public offering (IPO) or a special purpose acquisition company (SPAC). The firm has set the goal to go public, Hoffman told Bloomberg:
"Our goal has always been to go public relatively quickly as that will significantly clarify our regulatory environment and allow customers to use currency to hedge public market volatility, which is different from other coins."
Investors in the company include Andreessen Horowitz, Greylock Partners, True Ventures and Galaxy Investment Group. The latest funding round included Andreessen and Richmond Global Ventures. David Frazee, managing partner at Richmond Global Ventures, said that chia coin is secure, complies with regulations and can be audited, Bloomberg reported.
Social media users have expressed concern that the supply of XCH coins is pre-mined, which raises the possibility of so-called "pump and dump", whereby the price is driven up and a large supply of crypto coins sold on the market, crashing the price while the original investors offload their holdings for profit. There are also concerns that the accessibility of mining the coin by simply downloading software will cause a shortage in hard drives and drive up costs.